I have been lucky enough to find terrific bloggers as I search the blog world. There are tons of fantastic blogs out there, but I think that the ones that I read are the creme-de-la-creme. I usually don't feel as if I am worthy of being on the same level as them, so I am always extremely flattered when I am given an award.
It really makes my day when someone remembers me and.....well......even comes back and reads my blog again! I have been blogging longer than most. I believe that it will be 4 years in Nov.-----hmmmmm----I guess I better check that date out, as I SHOULD have some kind of a giveaway for that date.
I have been inspired by so many of you-----you blog everyday and share so much of your lives and your world with those of us, the readers. AND you manage to read lots of our blogs and COMMENT----which in turn is making that blogger feel so much better about themselves!
In short-----I am not worthy of it, but the unbelievable
Redhead Riter
has given me two----yes, two-----awards! She has only been blogging since the first of this year, yet she has a HUGE following, always leaves great comments, and has amazing thought provoking posts. It would really behoove you to go on over and check out her fun blog!
This one is all about the rays of sunshine----which we all love!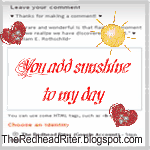 And isn't this great that this is the button for one of my favorite
bloggers.....
The Scholastic Scribe!
(Its her award and she has passed it on to many---I was 1010!)
Thanks for these!!
Now for the rules:
1. Each Superior Scribbler I name today must in turn pass The Award on to 5 most-deserving Bloggy Friends
2. Each Superior Scribbler must link to the author & the name of the blog from whom he/she has received The Award.
3. Each Superior Scribbler must display The Award on his/her blog, and link to

this post

which explains The Award.
4. Each Blogger who wins The Superior Scribbler Award must visit this post and add his/her name to the Mr. Linky List. That way, we'll be able to keep up-to-date on everyone who receives this Prestigious Honor.
5.

Each Superior Scribbler must post these rules on his/her blog.

Have fun----you superior bloggers, you!

1. Hailey at

Hailey Tracks.

She is an amazing mom, actor, singer, comedienne, daughter, and one of my best friends! (And yes, she is my oldest daughter!) Check out her fantastic posts about her very busy life!
2. Kristina at

Pulsipher Predictions.

She is one of the funniest bloggers around----and can even make a Snuggie look good! She probably has gotten many awards, but she deserves it as she will make you laugh out loud reading about her life.
3. Julie at

The Art & Life Of the Ruby Nest.
She is a super talented artist with her fantastic paintings, she seems so sweet and you have to read the stories that she makes up about her the girls that she paints----she has so much talent for stories!
4. Tiberon at
Shark Bait

.
She is an inspiration with her exercising (biking like a crazy person!), her daily blogging and her fun look on life----I was once up against her for a blogger award, and I didn't have a chance----yes, she is that superb!
5. Angela at
Domestic Lifestyle.
She is a real (in life) friend of mine----super smart, super gorgeous, a super mom, wife and a travel agent also. AND she home schools too!
Congrats ladies!! You are all Super Superior Scribblers!!